Friends,
Please share with your neighbors, family, tenants, parishioners, and community partners.
Early Voting begins Monday, October 24th at 7:00 a.m. throughout the state of Texas. Voting in one party's primary election, convention or runoff election does NOT commit you to vote for a particular party or candidate in the General Election. You can still vote for any candidate of your choice, regardless of party, in the General Election.
METRO will be providing free rides to the polls on Oct. 24 – 30 & Election Day, Nov. 8, 2022! Visit ridemetro.org
PHOTO ID IS REQUIRED TO VOTE IN PERSON IN ALL TEXAS ELECTIONS
Those voting in person either early or on election day will be required to present photo identification or an acceptable alternative identification allowed by law. Learn more here.
ANY HARRIS COUNTY POLLING LOCATION CAN BE YOURPOLLING PLACE
All Harris County polling places are now Voting Centers! Choose the location that is most convenient to you — you no longer have to return to your home precinct to vote! Go here or call 713-755-6965 to find the location nearest to you. Bonus! By using the link, you will also be able to see which locations have the shortest wait times.
NEW: HARRIS COUNTY HAS NEW VOTING MACHINES
The Verity Duo system is now in use. Using the Verity Duo is a 2-step process. Step 1: Cast your ballot on the touch screen Verity Duo machine and print a copy for verification. Step 2: Take the printed copy of your ballot to the Verity Scan machine to record your ballot and cast your vote.
YOUR BALLOT MAY HAVE NEW DISTRICTS!
The races on your ballot may look different this year. Redistricting resulting from the 2020 census may have assigned you to new Congressional and Legislative Districts. Click here to preview your specific ballot.
REQUESTING A BALLOT BY MAIL
Voters may cast mail ballots if they are at least 65 years old, if they will be out of Harris County during the Early Voting period and on Election Day, if they are sick or disabled, if they are incarcerated but eligible to vote, or if they are due to give birth within three weeks before or after Election Day.
Mail ballots may be requested by visiting harrisvotes.com. Get details for requesting and returning a Ballot by Mail here.
INFORMATION FOR VOTERS WITH UNIQUE CIRCUMSTANCES
College Student away at school? Living abroad, serving in the military or a military spouse/dependent? No permanent physical residence address? Served your time and are now "off paper"? You have the right to vote! Recently moved within Texas or Harris County?
VOTING IS YOUR RIGHT
Should you encounter any problems at the poll, you may always ask to cast a Provisional Ballot and have the opportunity to correct any problem; see page 2 for details about "curing" a Provisional Ballot. You may also contact the County Clerk's office at 713-755-6965, the Texas Secretary of State Election Division at 1-800-252-8683, or the United States Department of Justice at 1-800-253-3931, or the Election Protection Hotline at 866-OUR-VOTE (866-687-8683), if you believe that your right to vote is being unlawfully denied or impeded.
If you have any voting questions or concerns, call:
866-OUR-VOTE (866-687-8683) English
888-Ve-Y-Vota (839-8682) Spanish
888-API-VOTE (888-274-8683) English, Mandarin, Cantonese, Korean, Vietnamese, Bengali, Urdu, Hindi, and Tagalog
844-YALLA-US (844-925-5287) Arabic
301-818-VOTE (301-818-8683) American Sign Language (video call)
888-796-VOTE Disability Rights Texas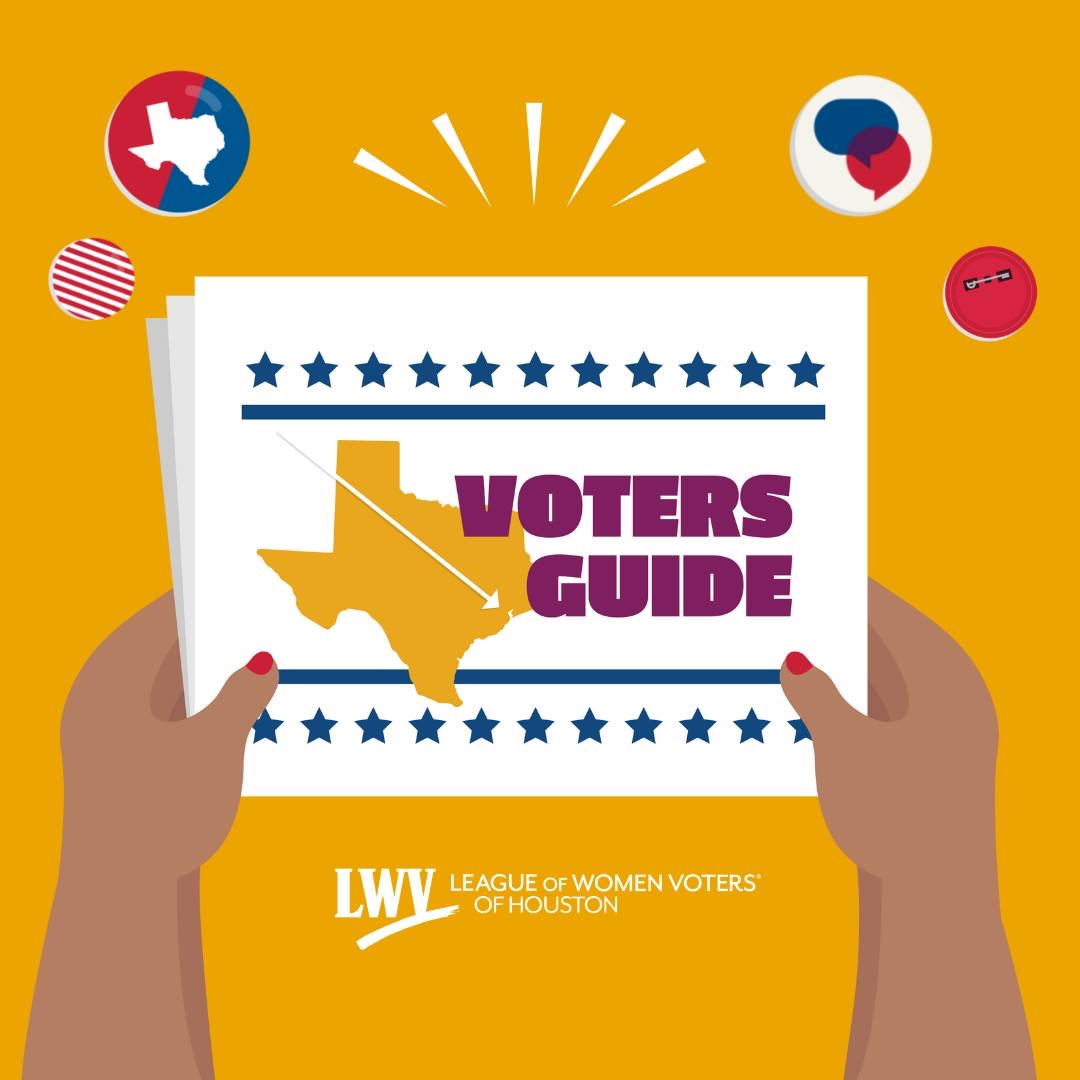 For information about the candidates on your ballot, the League of Women Voters of Houston produces guides for every election at Vote411.org orhttps://lwvhouston.org/voters-guide/
The League's nonpartisan Voters Guide is available in English, Spanish,Chinese, Vietnamese and simplified Chinese.
Join the League of Women Voters and a variety of other Houston area groups for a voter empowerment rally!
LWV Houston will have voters guides on hand as well as more information about going to vote.
It is an honor to serve and represent you.
Sincerely,
Gene Wu
State Representative