I listened to you at our conversation about gun violence in August.  Save the Date for my Gun Violence Town Hall and join me for a conversation on gun violence prevention legislation for the upcoming 88th Regular Session.
Monday, October 10th
6:00 p.m. – 7:30 p.m.
BakerRipley Gulfton/Sharpstown Campus
6500 Rookin Street
Houston, Texas 77074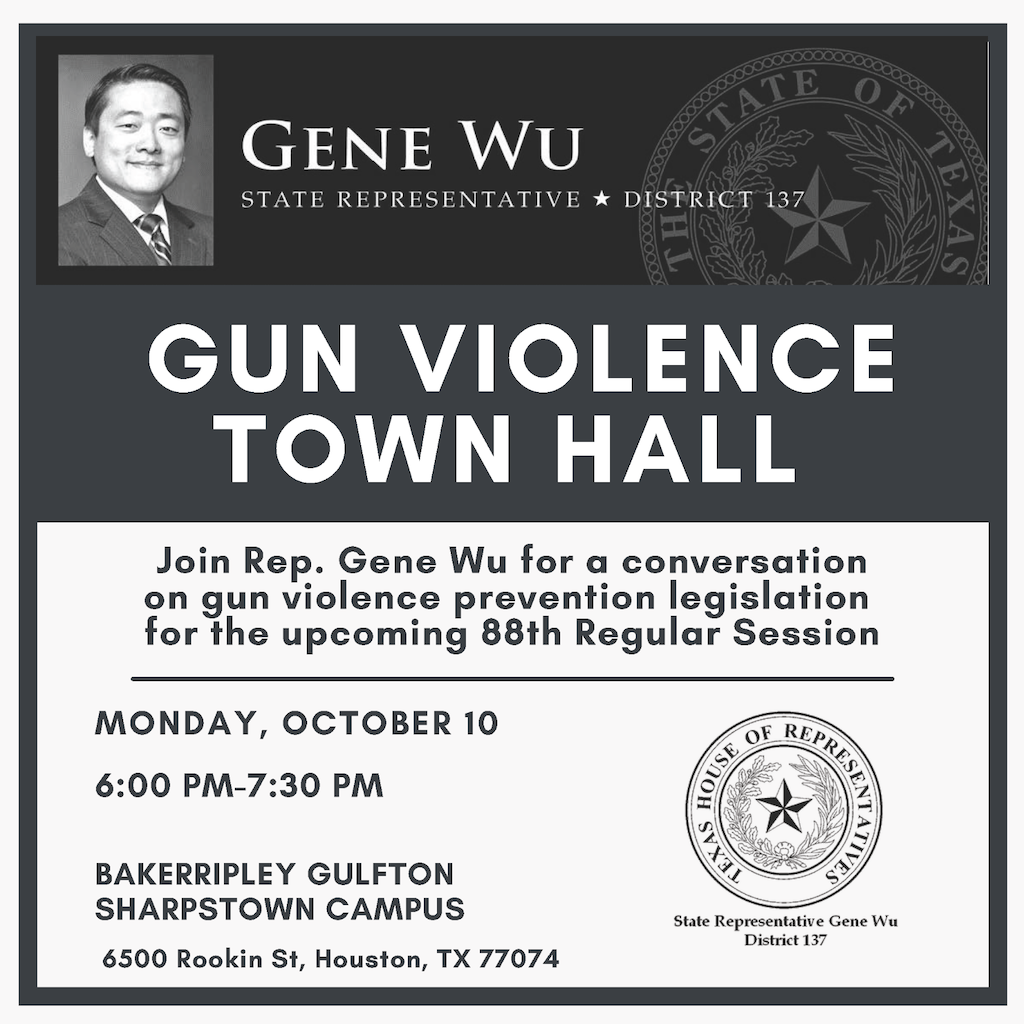 I am pleased to inform you about an upcoming event, Ride with Refugees, that will be taking place at the BakerRipley Gulfton Sharpstown Campus this Saturday, October 1, 2022 from 9:00 a.m to 11:00 a.m. The goal for the event is to engage our community, shine light on refugee awareness, and strengthen our community.
The bicycle ride is 8 miles long, which includes a rest stop for water halfway. We invite everyone to enjoy and support the event sponsored by refugee-focused non-profit organizations.
For safety, Houston Police Department will also provide an escort. BikeHouston and RwR will provide services to maintain a safe ride. However, all riders must know how to ride a bicycle.
For those who need a bicycle to participate in this event, there are a limited number of bikes that can be loaned to those who have a refugee background. To ask for a loaned bike, email [email protected]
Non-riders are encouraged to enjoy the playground and kid-friendly Activity Fair sponsored by refugee-focused non-profits.
The address of the BakerRipley Gulfton Sharpstown Campus is 6500 Rookin St, Houston, TX 77074. All riders must agree to wear a helmet.  A helmet can be provided if needed.
Wear whatever is comfortable. Yet, shoes must have closed toes or you will not be allowed to ride.
Please share with your neighbors, family, tenants, parishioners, and community partners. We hope to see you at BakerRipley Gulfton Sharpstown Campus on Saturday, October 1, 2022!
To get more information about this upcoming event, please visit www.ridewithrefugees.org Registration deadline is Thursday, September 28, 2022.