A young Saudi man's odyssey that started with him seeking an engineering degree in  Miami has landed him in the heart of the Gulfton District's international restaurant scene.
Hussein Alkatheri, now 27, earned that degree from the University of Miami — and then got a graduate degree from Penn State University.
But Alkatheri found it difficult in 2020 to land a job in the engineering field during the COVID.
Instead, he is a co-owner, manager and chef of Sheba, a Yemeni Mandi restaurant at 6121 Hillcroft that presents the dishes he enjoyed as a boy growing up in Yemen and Saudi Arabia.
Four entrepreneur-minded friends from Saudi Arabia whom Alkatheri met in college talked him into running the restaurant and joining them as an investor in several other Yemeni restaurants in Texas.
In addition to the business management skills he gained from his master's degree work at Penn State, Alkatheri also brings an understanding of the food, flavors and traditional dishes of Yemen.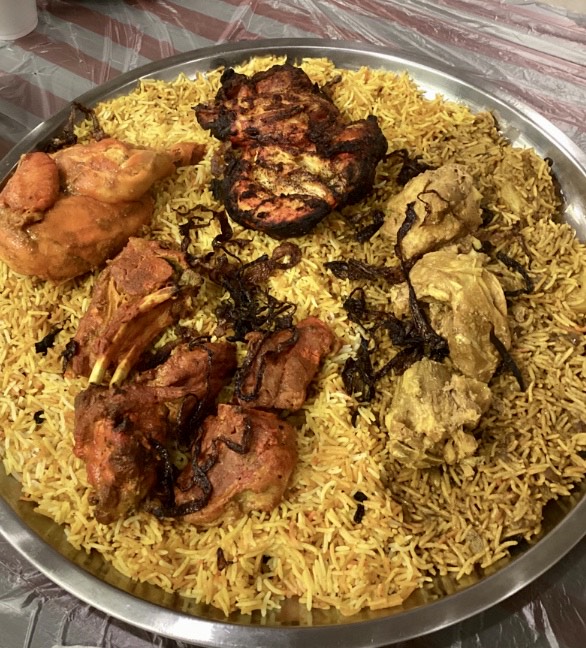 During his childhood in Riyadh, his family made frequent trips for vacations and holiday family gatherings to a small town in Yemen where his grandparents lived. There he learned how to prepare the elaborate lamb, chicken and fish dishes of Yemen that highlight the menu at Sheba.
At gatherings in Persian Gulf nations, the dishes are offered to show the highest level of respect and generosity for honored guests and family members.
The most elaborate and enticing one is the Mandi lamb, made in the traditional Yemeni way that requires the freshest of lamb meat cooked with saffron spices and rice.
Mandi refers to the method of cooking and special blends of spices that are traditional in the Hadramout region of Yemen.
"The lamb we serve is cooked in the slow way," Alkatheri said, while sitting in the cozy strip center restaurant. "We cook it for about three hours to make it melt in your mouth."
The same Yemeni spices that were used in his home kitchen are used in the cooking process at the restaurant.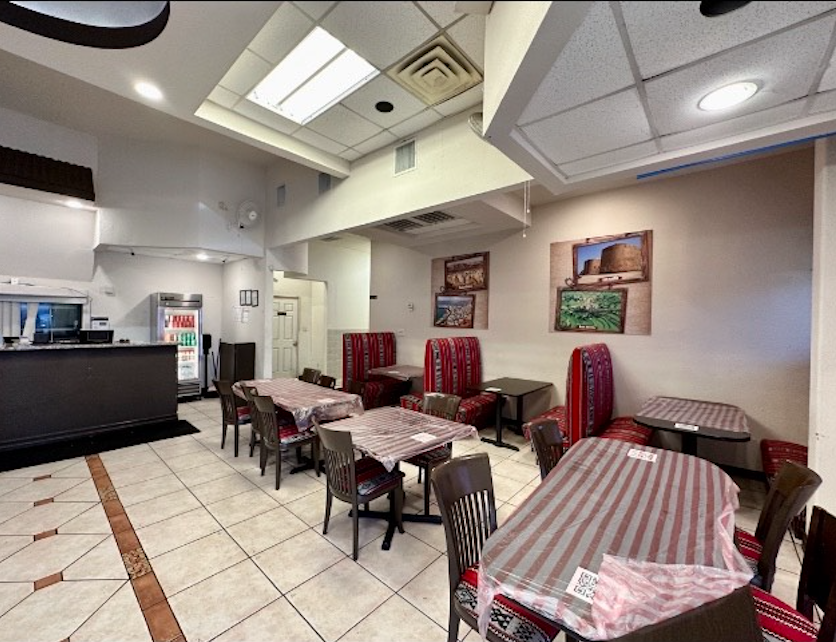 "When you serve this to your customers, it is like serving it at your house," he explained.
At weddings, lamb also is served to show respect for the guests, Alkatheri said. "You show your gratitude you have for your guests' presence."
The lamb preparation is also customarily served during the Muslim holiday Eid al Adha.
"On special occasions, Muslim people slaughter lamb and cattle," he explained. "Some of the meat they give to the poor and some of the meat they give to their families and some they keep for themselves.
Sheba gets its lamb from a farm in San Angelo, Texas.
"One of our partners goes with the farmer to check on the quality of the lamb; we want to serve our customers fresh lamb that they will not find  anywhere else."
Alkatheri said the lamb is expensive and there is not much of a profit margin in serving it, but it remains the most important dish at Sheba.
"We serve it fresh. Some (other) restaurants buy it from restaurant  distributors, but (fresh) makes a difference."
Customers from countries such as Saudi Arabia and the Emirates ask ahead of time if the restaurant makes the dish in the traditional way.  "And then when I serve them the food, they agree," he said.
Alkatheri mentions the diversity of the clientele that come to his restaurant. They include people from Pakistan, China, India and Japan, he said.
The baked fish also is popular with diners The fish is golden pompano, an open ocean, farm-raised fish from the southern coast of  China that the restaurant gets from 99 Ranch Market in Houston.
The fish is a cousin to the Florida pompano, a favored food fish caught by recreational anglers along Gulf of Mexico beaches. At Sheba it is seasoned, baked butterfly style for about 15 minutes and served whole with rice.
The entrees at Sheba are priced from $13 to $20.
The restaurant appears to have a steady take-out business along with catering orders for offsite events.
Other traditional meat dishes offered at Sheba include Mandi chicken, which is seasoned with saffron spices and slow cooked while covered in the oven for about two hours and served with rice; and Hanith chicken and Hanith lamb, which is baked directly exposed to the heat to make it crispy on the outside and tender on the inside.
Zurbian chicken and lamb are cooked together with rice in a pot. The dishes are seasoned with whole cloves and cardamom pods and include raisins and potatoes.
Galaah lamb is a stew mixed with onions, green peppers and tomatoes.  Fresh Iraqi bread purchased daily from the Almadina International Supermarket nearby is served hot with the entrees
A butter pastry topped with honey and cream that is popular for breakfast in Yemin is served as a dessert at Sheba and diners like to eat it with dates or bananas.
The owners operated other traditional Yemeni restaurants in Dallas, and they have plans to expand further.
As for his future as a Yemeni restaurant entrepreneur and chef, Alkatheri said he will continue to look for opportunities in his chosen field of mechanical engineering — but he is happy being a restaurant entrepreneur for now.
"I like the restaurant business as an investment," he said. "I want something to  support me when I have days off or when I have months off and go back to visit my family back home. Someone will cover my position and I will have an income."
— by Phil Shook