Located in the northwest corner of Houston's Gulfton neighborhood, at the intersection of Hillcroft Avenue and the Southwest Freeway, La Telera restaurant reliably serves authentic antojitos — which literally means "little cravings" — featuring Mexican sandwiches called tortas.
Tortas are traditionally made using a type of bread that, according to restaurant co-owner Diego Carnero, originated in Mexico City. The bread is known as telera bread, hence the establishment's name.
When Carnero and Carlos Contreras acquired La Telera in 2016, the menu consisted solely of tortas, some tacos, and a variety of freshly squeezed juices. Fast forward to today and their menu has expanded to include tostadas, gorditas, taquitos and more. The portions per dish have increased as well.
Among La Telera's top-selling dishes are El Machete and empanadas. El Machete is a giant torta-style quesadilla held together by a corn tortilla. It's toasted with cheese and comes with a choice of one or two meats, plus lettuce and tomato.
The empanadas, on the other hand, give a Mexican twist to the traditional Peruvian versions, honoring the heritage of both owners. Empanadas from Peru are traditionally made out of meat and tend to be baked rather than fried as in Mexico. La Telera's Latin fusion empanadas combine the best of both worlds. They come in assorted ingredients ranging from meat with potatoes to beans with cheese.
Other popular dishes on the menu include flautas and sopes. An assortment of breakfast platters is also available in addition to desserts such as flan and tres leches. Topping it off are pozole and menudo, served on weekends only.
Carnero and Contreras are pleased to introduce a new menu this month. It features a smaller selection of tortas, keeping only the best-selling options on board.
The proud owners are especially excited to offer the new plate pan con chicharrón or pork belly bread. It's a round slice of bread that comes with fried sweet potato and spicy onion sauce. The Peruvian population making up a segment of their clientele base requested that the dish be added to the menu, Carnero said.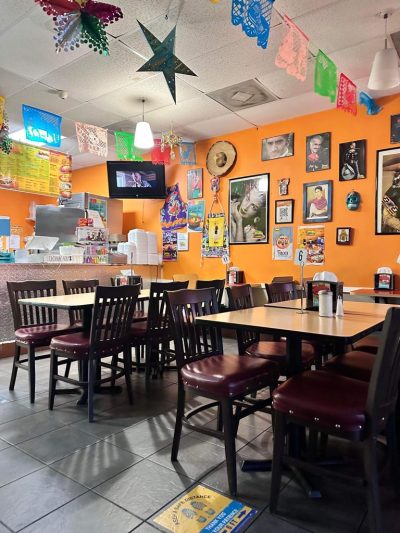 "Our goal is for people to be happy and to offer good service," Carnero said. "Long-term goals include expanding our establishment and making La Telera more of a taqueria-style restaurant."
Considering the steady influx of clients throughout the day, dining in and picking up takeout, the festive Latin decor brightening up the interior, as well as the top-notch customer service, Carnero and Contreras are succeeding at their goals by every conventional metric.
La Telera
6001 Hillcroft St #800, Houston 77081
713-995-7272
http://www.latelera.com
Open 9 a.m. to 9 p.m. weekdays, 10 a.m. to 9 p.m. weekends
— By Liliana Rodriguez