As the U.S. troop withdrawal from Afghanistan intensified a year and a half ago, Houston resident and Afghan national Najidullah Sharisi wanted to do more than just watch the developments unfold on TV.
Sharisi, 38, knew where to go. He hopped in his car and headed straight to Afghan Village Restaurant on Hillcroft Avenue in the Gulfton Management District. In addition to its authentic cuisine, the popular eatery is an epicenter of Afghan cultural and social life in Houston.
"When the pullout was about to happen, we were concerned," said Sharisi, a trucking business dispatcher. "We have a lot of families and friends there that have been working for U.S. forces. The Afghan community held meetings at the restaurant to talk about it."
The restaurant at 6413 Hillcroft is a gathering spot for Houston's close-knit Afghan community as well as minorities of all backgrounds, especially Indians and Pakistanis, said owner Omer Yousafai.
"On weekend nights, our restaurant is filled with Houstonians from all over the city who come for signature dishes like kebabs, quorma stews or lamb or goat karhai – meat seasoned with ginger, tomatoes, spices and garlic," said Yousafai, 46. "Some people like to dine in the section of our restaurant that has a more traditional Afghan setup — low tables with pillows on the floor."
Yousafai served as a U.S. Armed Forces contractor from 2007-2010, where he hired scores of linguists to work alongside troops during the Afghanistan War. Today, many such Afghans have secured Special Immigrant Visas and often stop by the restaurant to chat and thank him for his help.
Owning a restaurant was a distant dream when Yousafai moved to Houston in 2001 after earning a law degree from Southern Methodist University School of Law in Dallas.
"I always wanted to have a restaurant," said the father of three children. "A lot of people were telling me that it's a tough business, and they were right. You have to have enough personnel and a good chef, and the overhead is high."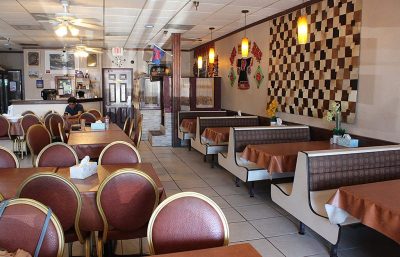 But when he opened Afghan Village in 2012, Yousafai knew he had made the right move.
"The day we opened, this place filled up from word of mouth," he said. "My kitchen was not prepared for the amount of people, so it's a good thing we put up a buffet."
Yousafai eventually found the perfect chef, Ghulam Bostani, who he has made a partner in the business. He has routinely hired newly arrived Afghans who understand the cuisine, are friendly and speak fluent English after working as interpreters. Many go on to start their own businesses, such as a taxi service, grocery store or cell phone shop.
Likewise, Yousafai has expanded his businesses to include grocery stores, a bakery, a clothing store, an import business, a security company and even more.
A popular area of his restaurant is a plush prayer room adorned with colorful cushion seats and authentic artwork from Afghanistan. Guests visit the room to pray, to socialize with friends or sit barefooted on the floor and enjoy dinner.
Yousafai often stops by customers' tables to chat and offers free food to anyone who can't afford to eat.
"I share my blessings," he said. "I'm blessed and I'm so thankful to God."
Afghan Village
6413 Hillcroft, Houston 77081
713.808.9005
Open 11 a.m to 10 p.m. daily